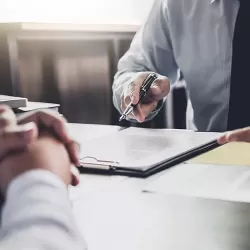 The loss of a loved one is a time of hardship. With the guidance of experienced probate Attorney David E. Houston, you'll get the help you need through this tough process. Many people put off estate planning, making a will, or doing any type of end-of-life legal preparation.
Most commonly it is because they don't want to think about end-of-life issues, they think it will be a difficult or uncomfortable process, or they think they are too young to worry about this type of thing.
Get Started Now!
The truth is, you are never too young, and when you work with the right Probate Lawyer, the whole process can be far easier than you might imagine. In fact, many clients say that they feel a burden lifted off their shoulders that they didn't even know was there once they have completed their estate planning.
David E. Houston, Attorney at Law is dedicated to working with individuals and families to help protect the assets they have built throughout their life and make everything simpler for families who have lost a loved one. We help thoughtful people achieve the peace of mind that comes with planning their personal legacy and passing on family harmony.
Attorney David E. Houston will work closely with you to make arrangements to help get things in order including addressing the following essential concerns in every legal way:
Who Makes Financial Decisions Should You Become Unable
Which Assets Go to Which Heirs
Avoiding the Probate Process
What Type of End of Life Care Do You Want
Care for Minor or Disabled Children
The fact is, most people don't realize just how much planning is needed. Putting this type of decision-making off not only places your own future finances at risk, but also those of your loved ones. While it may seem overwhelming at first, remember that estate planning does not have to be difficult or complicated. Attorney David E. Houston attorney will work with you to get all the necessary information together, and then complete the legal forms that are needed.
Depending on the size of your estate and your family situations, we can often get all your planning completed in just one meeting. Cleburne Attorney David E. Houston can handle all your needs, including, but not limited to:
Estate planning
Wills and estates
Asset protection
Second marriage planning
Probate
Estate administration
Trust administration
Medicaid Planning
Special needs planning
Incapacity planning
Powers of attorney
Guardianships
Pet planning
We believe in planning for your future for peace of mind now. If you are interested in learning more or you would like to set up a consultation, please contact Attorney David E. Houston today.