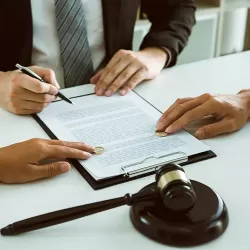 Attorney David E. Houston is well versed in all areas of divorce and family law and he takes pride in his commitment to the clients' needs and in his efforts to empower clients going through the difficulties associated with divorce and custody litigation.
Whether you need a lawyer to inform you of your rights so you can reach a quick settlement in your case, or an attorney to forcefully fight for your rights, Attorney David E. Houston will aggressively pursue your goals.
Attorney David E. Houston is here to respond to your needs and help you seek the outcome you want. He is also different in that he will never "sugar coat" the situation you are in. Too many lawyers tell people what they want to hear, but Attorney David E. Houston is committed to telling you exactly the situation you are in because that is the only way you can make an informed decision about what is best for you and your family. 
Adoption
Child Custody
Child Support
Civil Appeals
Divorce / Complex Divorce
Domestic Violence
Child Support Enforcement
Attorney General Cases
Enforcement of Visitation
High-Asset Cases
Military Divorce
Pre- and Post-nuptial Agreements
Modifications
Property Division
Spousal Maintenance
Protecting Your Rights Inside & Outside of Court
From contested custody battles to child support issues to complex property divisions, Attorney David E. Houston handles all aspects of the divorce process. Attorney David E. Houston's goal is to provide each of our clients with the professional help they need and the supportive care they deserve. When this requires the additional knowledge of a non-legal professional, we are more than happy to involve other high-caliber specialists to support the case.
Unlike many firms that only handle divorce and family law cases on an infrequent basis, Attorney David E. Houston is highly focused on divorce and family law clients. This means that our clients can expect to benefit from our team's in-depth, detailed knowledge of Texas divorce law and can be confident that Attorney David E. Houston knows what it takes to achieve the best outcome possible in a given case.
Whether your case can be negotiated outside of court or requires litigation, Cleburne Attorney David E. Houston has the resources, skill, and tenacity to protect your best interests and fight for the outcome you desire.
Attorney David E. Houston is locally respected for his skill and experience in Family Law Practice. Providing amicable solutions for our clients is Mr. Houston's top priority of every member of our team. We are committed to ensuring our clients receive our undivided attention from start to finish.