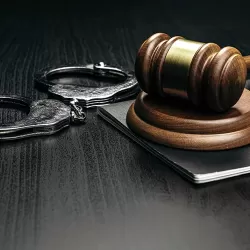 At David E. Houston, Attorney at Law, we are committed to protecting your freedom, record, and rights. We believe that every individual accused of a crime has a right to aggressive defense counsel and all of the protections that our criminal justice system has to offer.
Attorney David E. Houston offers a full-service criminal defense practice, including the representation of adults and juveniles across North Texas in cases ranging from misdemeanors to murder charges.
Areas of Criminal Defense
Marijuana Charges
Possession of Controlled Substance Charges
Assault / Family Violence Charges
DUI / DWI Arrests
Boating While Intoxicated (BUI / BWI)
Driving While License Invalid / Suspended Charges
Sex Crime Allegations and Charges
Weapons Violations
Burglary Charges
Violent Crime Arrests
Forgery Offenses
Fraud Charges
Theft Offenses
Criminal Mischief Charges
Probation Violations
Drug Charges
Child Pornography Charges
Expungements / Non-Disclosures
Bail Review
You Do Not Want a Criminal Record
Being convicted of a crime could cost you your job, limit your future employment opportunities, damage your community standing, impact your ability to get into a school or profession of your choice, and subject you to significant criminal penalties.
Depending on the nature of your charges and your situation, you could be ordered to undergo drug or alcohol treatment, your professional license could be jeopardized, you could be placed on highly restrictive probation, and your eligibility for school loans could be jeopardized. If you have children, a criminal record could even be used against you in a custody battle in divorce proceedings.
Criminal Penalties Can Impact Your Life in Innumerable Ways
Penalties arising from a felony offense could change your life forever. Spending years behind bars could cost you your marriage, your family, your friends, your ties to your local community, and your professional advancement. No one wants to spend the best years of their life in a prison cell. Even after being released from prison, finding work with a felony record is a daunting challenge. Getting back to life as you once knew it may be impossible.
Even the penalties arising from a misdemeanor offense can change your life in many ways. Consequences of a DUI conviction, for example, may include jail time, driver's license suspension, court-ordered alcohol treatment, restrictive terms of probation, significant court fines, a sharp rise in your auto insurance rates, and other adverse consequences.
Get the Aggressive Criminal Defense You Require
There is no substitute for an aggressive defense when your legal rights are at stake. If retained as your defense counsel, our Cleburne criminal defense attorney David E. Houston will carefully scrutinize the circumstances surrounding your arrest and every aspect of the prosecution's case to identify available defenses and build a strong case on your behalf.
There are many ways Attorney David E. Houston can positively impact your criminal case. Cleburne Attorney David Houston's skills in the courtroom and effective use of pretrial motions, first offender programs, creative plea agreements, alternative sentencing options, and other proven defense measures have helped many clients avoid or minimize penalties arising from criminal charges.
Put Our Legal Experience to Work for You
A skilled litigator and strategic negotiator, attorney David E. Houston is well-positioned to defend your rights. He has defended clients in cases ranging from misdemeanor traffic violations to high-level felony offenses across North Texas.
No firm cares more about your case or will fight harder to seek the best possible outcome for you. We offer aggressive representation and never stop fighting for our clients. Our Johnson County, Texas criminal defense attorney David E. Houston holds the prosecution to its burden of proof and will not hesitate to take your case to trial if it is in your best interest to do so.
Attorney David E. Houston does not shy away from tough cases and Mr. Houston has tremendous confidence in our ability to make a positive difference in your case.